Welcome to the website of the Saint Nicholas Greek Orthodox Church, under the jurisdiction of the Greek Orthodox Metropolis of Toronto
On October 26 we celebrate the memory of the Holy Great Martyr Demetrios the Myrrh-streamer.
Apolytikion
The world has found in you a great champion in time of peril, as you emerged the victor in routing the barbarians. For as you brought to naught the boasts of Lyaios, imparting courage to Nestor in the stadium, in like manner, holy one, great Martyr Dimitrios, invoke Christ God for us, that He may grant us His great mercy.
*New* Watch Speech by Fr. Fanourios: 40th Anniversary Gala
Liturgical Program
The schedule of divine services for October 2014 is available in both English & Greek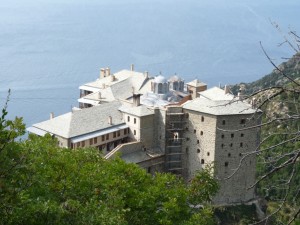 New and different scents of handmade incense from monks of the Holy Mount Athos have just arrived for Great Lent and are now available at the St. Nicholas Church Bookstore on Sundays following the Divine Liturgy. For additional information, please contact the church office.