Welcome to the website of the Saint Nicholas Greek Orthodox Church, under the jurisdiction of the Greek Orthodox Metropolis of Toronto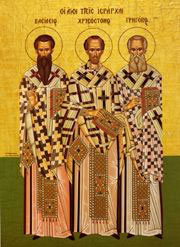 On January 30th we will joyously celebrate the Synaxis of the Three Hierarchs: Saint Basil the Great, Saint Gregory the Theologian and Saint John Chrysostom.
Apolytikion
The three most great luminaries of the Three-Sun Divinity have illumined all of the world with the rays of doctrines divine and true; they are the sweetly-flowing rivers of wisdom, who with godly knowledge have watered all creation in clear and mighty streams: The great and sacred Basil, and the Theologian, wise Gregory, together with the renowned John, the famed Chrysostom of golden speech. Let us all who love their divinely-wise words come together, honouring them with hymns; for ceaselessly they offer entreaty for us to the Trinity.
---
Fr. Fanourios – Homily: On the New Year and Human Communication
---
The Theophany of Our Lord
---
Liturgical Program
The schedule of divine services for January 2015 is available in both English & Greek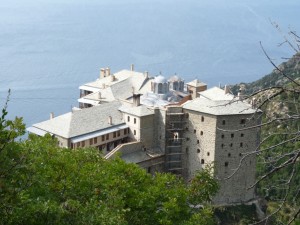 New and different scents of handmade incense from monks of the Holy Mount Athos have just arrived for Great Lent and are now available at the St. Nicholas Church Bookstore on Sundays following the Divine Liturgy. For additional information, please contact the church office.