Welcome to the website of the Saint Nicholas Greek Orthodox Church, under the jurisdiction of the Greek Orthodox Metropolis of Toronto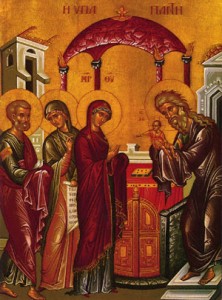 On February 2nd, the Holy Church joyously celebrates the Great Feast of the Presentation of Our Lord and Saviour in the Temple.
The fortieth day after His birth, the All-holy Virgin brought her divine Son into the Temple of Jerusalem, in accordance with the Law, to dedicate Him to God and to purify herself (Leviticus 12:2-7, Exodus 12:2). Even though neither the one nor the other was necessary, the Lawgiver did not want in any way to transgress His own Law, which He had given through Moses, His servant and prophet. At that time, the high-priest Zacharias, the father of John the Forerunner, was serving in the Temple. Learn More
Apolytikion: Hail Virgin Theotokos full of Grace, for Christ our God, the Sun of Righteousness, has dawned from you, granting light to those in darkness. And you, O Righteous Elder, rejoice, taking in your arms, the Deliverance of our souls, who grants us Resurrection.
---
---
Liturgical Program
The schedule of divine services for February 2016 is available in both English & Greek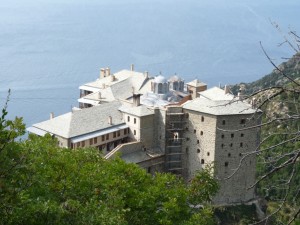 New and different scents of handmade incense from monks of the Holy Mount Athos have just arrived for Great Lent and are now available at the St. Nicholas Church Bookstore on Sundays following the Divine Liturgy. For additional information, please contact the church office.