Welcome to the website of the Saint Nicholas Greek Orthodox Church, under the jurisdiction of the Greek Orthodox Metropolis of Toronto
On August 29th we commemorate the Beheading of the Holy and Glorious Prophet, Forerunner and Baptist John (Strict Fast).
Apolytikion: The memory of the just is celebrated with hymns of praise, but the Lord's testimony is sufficient for thee, O Forerunner; for thou hast proved to be truly even more venerable than the Prophets, since thou was granted to baptize in the running waters Him Whom they proclaimed. Wherefore, having contested for the truth, thou didst rejoice to announce the good tidings even to those in Hades: that God hath appeared in the flesh, taking away the sin of the world and granting us great mercy.
---
Dormition of the Theotokos 2015
---
Liturgical Program
The schedule of divine services for September 2015 is available in both English & Greek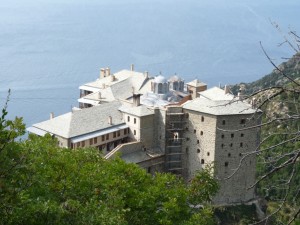 New and different scents of handmade incense from monks of the Holy Mount Athos have just arrived for Great Lent and are now available at the St. Nicholas Church Bookstore on Sundays following the Divine Liturgy. For additional information, please contact the church office.